October 18, 2019 | Buying
Halloween and Fall Decorating Ideas to Put You in the Spirit
Halloween is approaching. Like a broom-riding witch catching some serious tailwinds, it'll be here before you know it.
Even if you aren't prepared for the impending holiday, fear not! The team at Houzz has been busy seeking some of the most ghoulishly glamorous, bewitchingly beautiful and spookily spirited ideas for decorating and celebrating All Hallows' Eve — as well as the rest of autumn.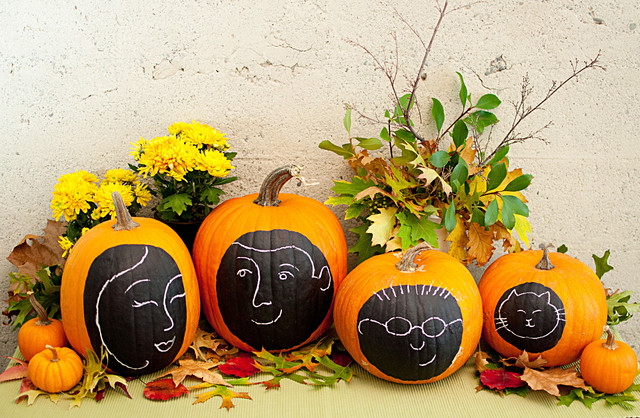 1. Make a pumpkin family portrait (no carving — no kidding) and other simple, eye-catching fall tabletop and mantel arrangements.
Johanna Cookson found that painting pumpkins all over made them spoil faster. Instead, she paints a circle on the front with chalkboard paint, which keeps the pumpkin fresher longer while offering a canvas for drawing faces or writing Halloween messages on. See for yourself how easy this project is.
2. Pumpkins, fall flowers and flea market finds put two Ohio porches in the seasonal spirit. You'll never look at an old toolbox the same way once you discover how lovely it can be filled with gourds.
3. Get a load of these clever, crafty and downright creepy entryway decorations submitted by Houzzers. There's a particularly "cheeky" scarecrow and a great idea for dressing up a garage door using bat silhouettes.
7. Dig inside a decorator's bag of tricks to see some concepts for trendy (and good-humored) jack-o'-lanterns. A Missoni-inspired design, anyone? Or perhaps you'd like to spice up the porch with 50 shades of gray? Yep, artist Molly Brandenburg's got a pumpkin idea for that as well.
8. Get inspired with fall container gardens that can be adapted to offer year-round interest, courtesy of landscape designer Karen Chapman. Learn how to dress up your beloved summer gardenia plant with white pumpkins for Thanksgiving, then silk magnolias and silver-dusted cones for Christmas.
11. Sugared skulls and bright paper flowers help lighten a Texas home's macabre decorating style. To create a creepy, cadaverous laboratory, suspend doll parts, fake fingers and gummy worms in covered jars filled with water. Throw in a few fake brains, and you'll be in business. Bwa-ha-ha-ha-ha!
12. After many years of inviting the entire neighborhood over for chaotic celebrations, one mom learned how much more enjoyable a smaller, structured kids' party can be for everyone involved. (Tip: Put fruits and veggies around the edges of the tables and the sweets in the center, so little ones are more likely to reach for the former.)
Read this veteran host's advice on how to throw a fun-filled kids' Halloween bash while keeping your house — and sanity — intact.
13. Get your home in the Halloween spirit (be it spooky or sophisticated) with DIY decorating ideas from contributing writer Corynne Pless.
Find some tin cans, cheesecloth, silk flowers and leftover paint, and follow along to make these easy (and supercheap) mantel arrangements. Would you believe the garland bats here are made of duct tape?