May 8, 2020 | Gardening
10 Garden Projects to Give as Mother's Day Gifts
For the mothers in your life who love to garden or spend time outside, activity-based gift ideas and gestures of service this Mother's Day can be a great way to show them how much you care. There are plenty of ways to make moms feel pampered this year, whether you're celebrating together or apart. Dust off the outdoor furniture and arrange a garden brunch in the backyard, hire a pro to build a mini deck when it's safe to do so or order a set of string lights to brighten an outdoor nook. Which of the following suggestions sparks inspiration for you?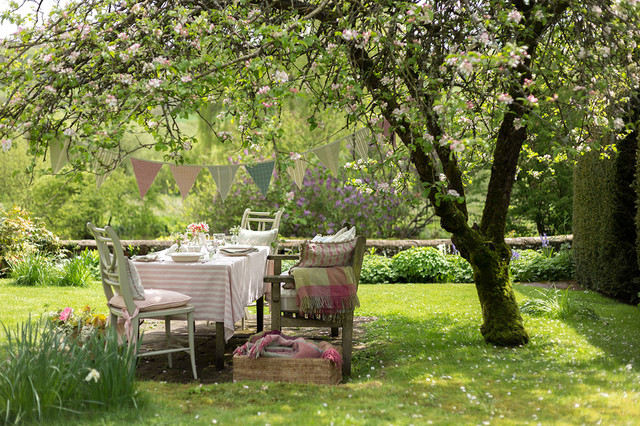 1. Set a Special Meal in the Garden
Pull out the patio furniture, spread a fresh tablecloth and set a spring-theme table in honor of your mom. Decorate with sprigs of blooms clipped from the garden (or picked up from a local florist) and a length of bunting or a paper garland, if you have one on hand. Adding a few indoor comforts — soft throw blankets, pretty cushions, nice china — can help make the setup feel extra special and more comfortable. Whether you serve a spring brunch or a candlelit dinner, your mom will be sure to feel spoiled on her day.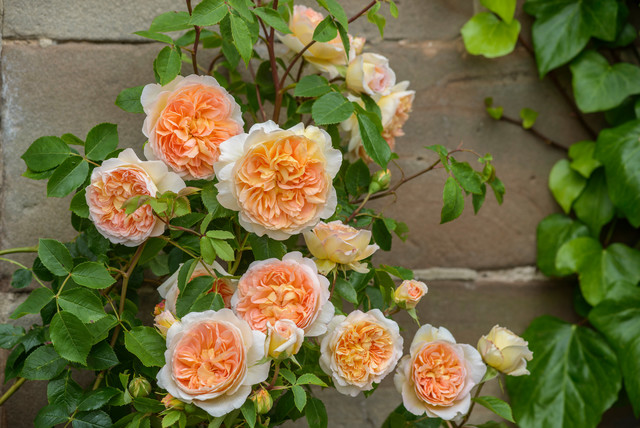 2. Plant a Pretty Climbing Plant
Is there an arbor or a blank wall in your mother's garden that calls for a rambling climber? Choose a flowering vine or climbing rose as a gift (or have your mom make the selection) and volunteer to plant it as part of the present.
Many roses begin blooming in May and will flower every year close to Mother's Day, serving as a sweet reminder of your gift. A few climbing varieties to look into: apricot-colored 'Bathsheba', pale pink 'Cecile Brunner', light pink 'May Queen', ruby-colored 'Crimson Shower' and the always dependable white-and-blush 'Sally Holmes'.
3. Pot a Living Bouquet
For a longer-lasting alternative to cut flowers, try a planted floral centerpiece that will give Mom weeks, if not months, of enjoyment. Look for smaller pots that could be used as a table centerpiece, or try less traditional vessels filled with potting soil. If you choose a vessel without drainage holes, like the teapot seen here, remember to water plants lightly and have a plan to plant them into larger pots or in the ground.
Small-scale plants that live happily in containers include pansies and violas, Diamond Frost euphorbia (pictured here), succulents, variegated English ivy, thyme and Irish moss. Most plants will need at least partial sun to thrive.
4. Build a Mini Deck
Even if your mom already has a deck or patio, she may enjoy having a smaller seating area somewhere else in the garden. Having firm ground underfoot and somewhere to sit make an area a destination. You can volunteer to build it yourself if you're extra handy, or hire a pro to install the deck once shelter-in-place restrictions in your area allow it.
5. Install Raised Beds
If your mother has had raised beds on her garden wish list for a while, help her make it happen this year by hiring a pro to help. Keep in mind that it's worth it to invest in rot-resistant wood, such as construction heart-grade redwood or cedar, which comes at a higher price point but will last for decades.
Beds with dimensions of 8 feet by 4 feet make efficient use of standard 8- or 12-foot-long boards and make for easy use — you can reach across 2 feet from all sides of the bed to access the center.
6. Organize the Toolshed
Garden toolsheds, much like closets, seem to disorder themselves when you turn your back. Starting the spring planting season off with an organized space can feel like a real gift to an avid gardener. Start by removing everything from the shed, giving the shelves and walls a good sweeping and cleaning the garden tools. Then place tools and garden supplies back in an organized way.
If your mom is the type who has a system and doesn't want anyone, no matter how well-intentioned, rearranging her workspace, have her nearby to direct you where to put things.
7. Give Mom a Space for Relaxing
If your mother needs a little extra encouragement to put her feet up, why not set up a relaxing spot just for her in the garden? Hang a hammock or simply set up a garden chair in a spot where she'll be comfortable. Bring out a tray with everything she might enjoy, such as a good book, a pitcher of iced tea and a few cookies.
8. Hang Dreamy Outdoor Lighting
Transform the ambiance of your mom's deck, patio or balcony with twinkling lights overhead or the soft glow of movable lanterns dotted around the edges. Offer to help with the light setup as part of the gift, and you can enjoy an evening meal together to appreciate the twinkle.
9. Arrange Butterfly-Friendly Summer Containers
The gift of a few colorful summer containers will be sure to brighten up your mom's garden, particularly if they bring pollinators like bees and butterflies to her yard. Before planting, take note of the light exposure her garden receives, and choose nectar- and pollen-rich plants accordingly.
Many pollinator plants, like salvias (pictured here), lantana, milkweed and echinacea, require at least a half day of full sun; others, like lavender, prefer more.